Queensland Garden Expo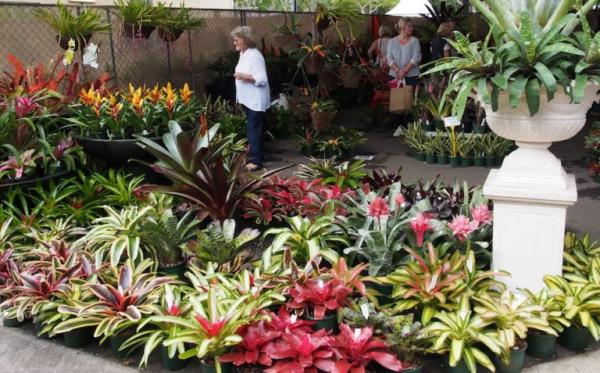 I love getting up to Queensland for this expo. It's so planty, so friendly and so much fun catching up with colleagues, heckling a few of them in their live talks and wandering about seeing what's new in the beautiful Sunshine State. The Queensland Garden Expo always brings out the best plant nurseries and the creative talent of Sunshine Coast locals.
In 2013 I was pleased to see as many lush plants as ever, ranging from tropical and subtropical treasures right through to some cooler climate bulbs and perennials for those in the more elevated hinterland regions. Yes, even in Queensland there can be nights dipping down near freezing in the higher hills and mountains.
But it's plants suited to the sub tropics of south-east Queensland and northern NSW that the majority of show goers are after – gingers, heliconias, bromeliads, bamboo, aloes, palms, dieffenbachia, philodendron, and tropical fruit trees and shrubs, as well as both species and newer cultivars of Australian native plants.
I enjoyed the plant stalls (and my Brisbane-based friend Sandra filled her car) and I was also pleased to see there were several new and clever garden-related products on show too.
Tuchekoi Tubs
A resourceful Queensland couple have come up with the ideal solution for outdoor hand washing, vegie washing, plant soaking, and just getting water access up at waist height instead of crouching over the garden tap. And all without the need for plumbers.
Despite wanting the convenience, I've resisted getting an outdoor sink as all I've seen before have looked either too clinical, too poorly made, or just a bit naff. But when I saw what Adrienne and Paul McVerry of Tuchekoi Tubs make, I was really wowed. While Paul scours the farm and local area for unwanted timber and scrap metal with which to craft each unique cabinet, Adrienne mixes up an intriguing hypertufa blend to create the rustic, stone-look basin. The brass tap takes a click-on hose at the back and the flexible ag pipe drain can run out onto the lawn, garden bed or back to the storm water. Water delivered in a piece of art for $375. Brilliant, and now on my birthday list!
Source: Catherine Stewart