About Paul McVerry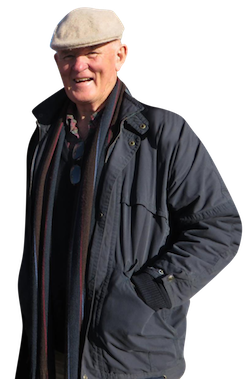 Early Years
Early years, mid sixties spent on properties in NZ graduating to Stud Master at Shamrock Hills Hereford Stud in Wairarapa Province.
Selected by NZ Farmers Stud Stock Co. to spent 18 months on properties in US and Scotland. including Wakarusa Shorthorn Stud in Kansas and at the time USA,s most prestigious Ankony Angus Stud in New York State. Then to Fordhouse of Dun Angus Stud in central Scotland.
On Return to NZ, married to my wonderful wife Adrienne, I was appointed as livestock agent for Wrighson NMA Corporation based in TeKuiti.
Subsequently transferred to Matamata in and appointed as Wrightson,s Chief Officer to lauch the NZ Charolais National Contract Breeding Scheme on behalf of US based Nelson Bunker Hunt,s  Livestock Corporation . This involved selecting and contracting approx. 100 NZ Farmers to enter into Contract Breeding Scheme,s  using the newly introduced Charolais to crossbred with mainly Angus and Friesans breeds . The female offspring  post weaning were then exported to Australia to be sold to breeders to become the first Charolois producers in Australia.
W. R. Grace / American Breeders Service and relocation to Australia
In early 70's I successfully applied for the position as Gen. Manager for US based American Breeders Service which was a division of the Worldwide multinational W.R. Grace Corporation . This appointment was the first by WR Grace to begin operations in New Zealand and Australia. and specialised in the introduction of Artificial Insemination and Ovum Transplants firstly in NZ then latterly in Australia.The Company began 5day training Schools for farmers to learn this technique plus improved farm management systems geared to improve milk production in the Dairy industry and improved conception rates and maximising on farm management systems in the beef industry. Within the first year the Company had become an industry leader in improving animal genetics .
W.R. Grace then requested that I transfer to Australia to establish similar  operations there.  During this time we negotiated a long term partnership with the Stock and Station Company Elder Smith Corporation .
There was significant  polictical unrest at this time in Australia particularly against foreign multinationals  specifically targeted against US based multinationals At this time I was applying to the Foreign International Review Board [FIRB] to bring in funding to purchase and large property in Gippsland, Victoria in order to establish Company HQ and a Semen production operation .
Despite assistance from Elders  our application was denied putting the total operation at risk . By this time I had employed State Managers and support staff in each mainland State.
WR Grace then decided to cut the Australian Operations and solely concentrate on the NZ market. This took some six months during which time an agreement was reached with Elders to absorb our staff including myself and launch the business as a new arm of their Australian Operations.
I was bitterly disappointed by W.R. Grace's lack of foresight and determination and resolved withdraw once the assimilation was complete.
"For Those Who Have Less"
Also at this time Australia was in the grip of a massive drought and large numbers of livestock, specifically sheep and dairy cattle were being slaughtered and buried in large pits.
Upon reading an article in The Age, an interview with Mr Len Reid MHR for Holt Electorate in Victoria, I was moved to contact him.  He wanted to take large numbers of these cattle that were being shot, transport them to India to establish large scale breeding farms, with Indian Government support with a view towards introducing cross breeding with local breeds to improve milk production I meet with Len Reid  on a number of occasions and whilst he was indeed a visionary little had been done on "How are we going to make this work".
Len Reid, a highly decorated fighter pilot from WW11 had recently been on a Government Mission to India and Bangladesh to view damage from a recent cyclone and flooding with a total of over 100,000 lives lost. Upon his return he consistently raised this matter in the Parliament seeking financial aid . Such was his passion and anger at the Government that he crossed the floor and voted with the opposition on this matter Needless to say in the upcoming election he was disendorsed as the sitting member for Holt so had decided to channel all his energy into foreign aid utilising improving animal genetics as the launch pad .  He registered the group "For Those Who Have Less" .
He asked me to become Executive Director but in reality my job was to make the operation work There was no funding available for salary so I purchased two lawn mowing rounds in Melbourne merged them into one and managed to complete the work over 3 days each week leaving the remaining time to concentrate on FTWHL activities.
Having established links with a large number of farmers mainly in Victoria and NSW I put together a support team of a dozen farmers who could clearly see the logic of the plan . In principle this was to collect as many heifers as possible together onto a property I leased in the YouYangs between Melbourne and Geelong This area was in close proximity to Melbourne,s airport. The plan being to fly the animals, 220 per load to India. This had not been done before from Australia but after discounting shipping due to high animal losses and research mainly from USA it was decided to air freight. The trip would take approx. 24 hours with stops in Darwin and Singapore .
Discussions with the Indian Government centred around establishing a central holding facility in India from which an ongoing breeding program could be established . The aim was to release mainly bulls with some heifers to selected areas to cross breed with the local village cattle to improve milk production .
The principle was strongly supported by Indian Govt.  officials however practical support was the key This led me to the Aarey Milk Colony in Bombay [Mumbai] region under the direction of Dr Sohani.
The Aarey Milk Colony, Bombay
Aarey had a population of 14000 people and 1300 cows and buffalo,s which were milked twice daily by hand . Grass,mainly para, was cut daily and feed to the animals which were all housed in open sheds. It was indeed a sight to behold Dr Sohani was happy to work with me to receive and house the Australian cattle and undertake the ongoing breeding program and release into selected areas. This became the launchpin for success of the operation at the Indian end.
Meantime Len Reid visited many countries at his own expense to appeal for  funding once the "how to do this" operation began to come together. He received funding from the German based EZE Group and several Dutch Govt sponsored agencies Hire of the plane was $USD30,000 plus other costs meant it was approx.  $USD50,000 per shipment The first lot of cattle arrived at the Melbourne property went through full export testing and were inseminated and tested to confirm pregnancy and ready for departure.
By this time the press became interested and The Age Editor, Ranald McDonald became a strong supporter so we gradually got significant funding from various Benefactors, Schools, Service Groups. Many subsequent shipments were successfully made and there were no recorded losses This same principle was then  used for day old male chicks who instead of being thrown out were sent to Bangladesh, into Government farms then mass released into villages. There were huge increases in egg production in resulting offspring [approx. 50 per year], size of birds for eating and greater longevity. Sheep were sent to Tanzania and bees to Phillipines, and breeding cows to Wyndham in Western Australia following the same principle.
This was truly a wonderful program to be part of and was a clear demonstration of giving aid to end it not create it.
I remained doing this work for some years until increasing family numbers determined a need for some financial security.
Mother Teresa, Calcutta
We received a direct request from Mother Teresa for supply of breeding cows to a number of  operations the the Missionaries of Charity ran in India .
The first of these was a Children's Orphanage with approx. 500 street chidren.
President John Kennedy had bought her some land just out of Calcutta adjacent to the Dum Dum Airport, Calcutta's main airport.
I visited the facility and met with her and it was agreed that we would give her 12 in-calf heifers. Once they had calved they would supply much needed fresh milk plus they were to be housed so the dung could be collected to provide to the "Gobar Gas Plant". This plant also took all the sewerage waste from the facility and the gas utilised to provide power and light to the Orphanage.
Dr Sohoni from the Aarey Milk Colony in Bombay agreed with the plan so it was  agreed to proceed.
Some months later a plane was set to go to Bombay diverting to Calcutta enroute.
Safely landing in Calcutta the animals were offloaded and trucked to  the Orphanage.
Some three weeks later I managed to get to Calcutta and visited Mother Teresa at her headquarters in Lower Circular Road. I was fortunate to spend the next four days with her discussing projects, visiting the many places her Order had established.
Whilst my accommodation at a very cheap boarding house adjacent to her headquarters was minimal to say the least, it faded into total obscurity as I experienced time with one of the most truly extraordinary people this world has seen.
I was sad to leave but we did manage a day a year or so later when she visited Melbourne.
The Pure & Natural Food Company
Following my time with FTWHL I continued to fulfil speaking engagements and fund raising functions but began to look various opportunities in business.
Finally decided to start a Healthy food style business with a view to expanding using franchising as expansion tool  provided the first operation was successful.
So the birth of Pure & Natural Food Company . Whilst tough going to start the business grew and within a few years there were some 20 outlets in Victoria and NSW.
My  partner, Frank Bennett, and I decided to join a new food group incorporating two other food retail opportunities. In principle the idea was sound but never really got off the ground despite best intentions of all concerned.
We decided to sell the  Pure and Natural Food Co. group of stors and it was bought by the Cut Price Deli chain.
On reflection it was a bad move to join the Sydney group but the decision was made and we had to live with it.
Another company, The Great Australian Pie Company based in Qld. They had also been part of the Sydney Group and withdrew from it when  the Pure and Natural group was sold.
Kel Netting, a former TAA executive had conceived the business and asked me would I consider joining him in Brisbane.
At this time I was doing private business consulting in Sydney and we saw this as an opportunity to move the family to a more stable and secure  enviorment.
We grew the business to become the largest producer/distributor in Qld and had decided to launch the Company on the second Board of the Australian Stock Exchange.
At the same time QUF Industries, Qid,s largest milk producer and distributor approached us with a view towards taking a majority shareholding in Company . Following that the Company decided to explore the Japanese market resulting in Kaneka Corp. taking an equity position in the Company. The business flourished until a buyout was effected by Victorian based Patties Foods Ltd.